Happy Release Day to Kendall Ryan and her new book WHEN I BREAK!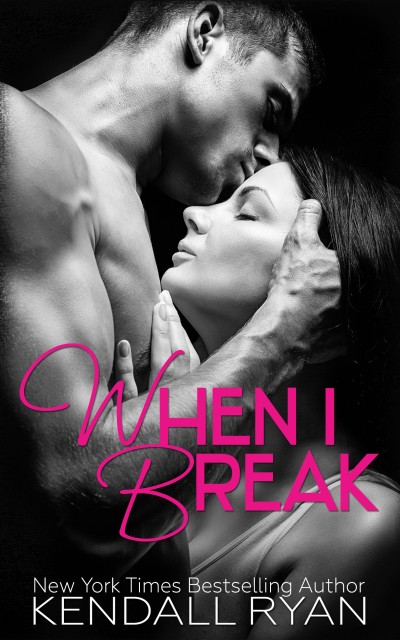 Knox Bauer's life has unraveled to the point of no return. Fighting to fill the emptiness inside himself, he seeks solace in unfamiliar beds with unfamiliar women. As guardian to his three younger brothers, he can't seem to do a thing right. But this can't go on...they look up to him in every way and all he's done lately is prove how messed up he really is. Needing a change, he attends a local Sex Addicts Anonymous meeting, where he finds himself tempted by the alluring instructor, McKenna.
Twenty-one year old McKenna is trying to make amends. After losing her parents in a horrific accident, she knows if she can just be good enough, maybe she can forgive herself for what happened. With her newly acquired degree in counseling, she begins leading a sex addicts group where she meets the troubled Knox and her life takes on complications she never bargained for. She doesn't have time for a bad boy who only wants to take her to bed, even if her body disagrees. The fixer in her wants to help, but trusting Knox's true motivations might take more courage than she has.
When I Break is book 1 in a new mini series by bestselling author Kendall Ryan.
Warning: Contains a stubborn alpha male with addiction issues and loads of sexual tension between two damaged characters. Read at your own risk.
Due to mature content, it is recommended for 17+.
"What's on your mind?" I asked, wiping my mouth on the napkin.
Pretty blue eyes pierced mine as she hesitated to answer.
"When I met you…I don't know. I could feel your pain and knew you'd experienced more than your fair share of trauma too. I felt connected to you."
I knew what she meant, but that didn't mean I wanted to encourage her attachment to me. I would only end up hurting and disappointing her. Even if I did everything in my power not to, that was my track record with women.
"McKenna, I'm not going to deny that we have a connection. We do."
"But?" she supplied, a trace of sarcasm in her voice.
"But…I fuck random girls. I use them for sex. I'm not a good guy. You shouldn't be so nice to me."
"You've made bad choices. You've messed up. But you're not a bad guy. I see the way you are with your brothers, and attending group, that's your way of trying to get better. You're not going to scare me off so easily, Knox."
My participation in her little meetings was practically court-mandated, and honestly, the only reason I'd continued going was because of my attraction to her, but I didn't correct her, wouldn't scare her off until she was ready to go.
Come a Little Closer – Cage the Elephant
Heart on Fire by Scars on 45
Love Don't Die – The Fray
Teardrop - Massive Attack
Fragments – Thievery Corporation
Letters from the Sky – The Civil Wars
Kendall Ryan is the New York Times and USA Today bestselling author of the contemporary romance novels, HARD TO LOVE, THE IMPACT OF YOU, RESISTING HER and WORKING IT.
She's a sassy, yet polite Midwestern girl with a deep love of books, and a slight addiction to lipgloss! She lives in Minneapolis with an adorable husband, two naughty puppies, and a brand new son.
She enjoys being naughty, reading, and anything girly.