Too many penalties may leave the goal vulnerable without the IRON CROSS.
After overcoming a potentially career-ending concussion, Tyler Vanek, Dartmouth Cobras' first line forward, couldn't be happier with his life. Until his boyhood hero-worship for Raif Zovko, a newly acquired player, develops into more. His mistress, 'Chicklet' encourages him to explore his feelings, and with her enjoyment of toying with the powerful Dom, Tyler figures it might be fun.
Laura Tallent, a dedicated officer with the Halifax PD, and Chicklet's first sub, is tired of Tyler's fun disrupting the structure of her world. Devotion to her mistress kept her silent for two years, but a horrible case and more proof that Tyler is the worst sub in existence has her wondering how much better life would be if he was someone else's problem.
Raif won't deny the lust he feels for Tyler, but he refuses to play games with a young man who's questioning his sexuality—he won't be an experimental phase for an unruly submissive. But when Laura draws him into a plan to remove Tyler from her poly relationship with Chicklet, his protective instincts take over. He partners with Chicklet to protect Tyler and dig deeper into the reasons behind Laura's scheming. Chicklet clearly loves her boy, she won't let him go. And before long, Raif realizes neither can he.
Blindsided by the discord in her household, Chicklet struggles to fulfill her subs' needs as their careers throw challenges at them all. Control is slipping from her hands, but with Raif by her side, she prays her relationships can be saved. Salvaging the future means rebuilding with a new foundation. But the only way to make the base solid is for them all to work together. And with all the secrecy and lies, she has no idea where to start.
Author's Note: The Cobras series has a continuing arc about the franchise, players, and previous relationships. Some plots continue through the series and may involve more than the main ménage. The series is best read in order.
Tyler inhaled to replace all the air he'd let out in the rush of words. Then he tugged at his bottom lip with his teeth. "And Raif… I don't know how I feel about him. And I blame you guys."
"I blame us too," Scott held up the bottle in cheers before tipping it to his lips. After he swallowed, he held the bottle with both hands and grinned at Tyler. "We've corrupted you. You see how good we've got it, just loving who we love, not giving a shit what anyone thinks."
Luke rolled his eyes and bumped Tyler's knee with his fist. "It's the drunk voice of reason. Listen up."
Tyler shook his head. "But that's it. I'm not like you guys. I've never tried anything with a—never wanted to…" He groaned when Scott and Luke just stared at him, waiting. "He's a boy!"
"Raif's a man, Tyler. And you're a man. And you don't think men should do stuff." Luke sighed. "You don't know what you're missing."
"And the

last

person you should be starting with is Raif." Scott's tone grew bitter as he glared at the wall. "I don't trust him."
"Me neither." Luke's lips twisted like he was thinking hard. "We started angel boy's corruption. We should finish it."
Ha! Like I can get any worse.
Tyler hung his head, remembering how mad he'd made Chicklet. Well, maybe not mad. Disappointed. And not because he'd played after getting hurt, but because he'd made a decision and then acted like he couldn't take two steps without her waving pom-poms at him.
Laura was Chicklet's slave and she needed Chicklet taking away all her choices when she wasn't at work. From the clothes she wore to what she ate. He and Chicklet had talked once about whether he needed something like that and the answer had been a great big "No."
He didn't want to be a slave and he wasn't a kid. Maybe that's what he could do to make Chicklet proud of him.
He looked at Scott, then shook his head. "Scott's having enough trouble with Raif and Pearce. He can't be finishing anything."
"I agree." Luke's eyes drifted shut and his lips slanted in a sleepy smile. "Guess I gotta do it."
Might as well just go for it.
Tyler wet his lips with his tongue and leaned over Luke. Took a deep breath and tried to hear Chicklet's voice. But that was the problem, wasn't it? He wouldn't prove nothin' by asking her what he should do, even if it was in his own damn head. She encouraged him to try new things. The way their relationship was set up, he had a green light for just about anything. So long as it didn't change how he served her.
And this wouldn't. This would just…just clear things up.
He moved so fast his lips slammed down on Luke's. Hurt a bit. Then a lot more when Luke shoved him off and his back hit the pavement.
"What the fuck, Tyler?" Luke's tone was sharp. He slapped his hand on the center of Tyler's chest before Tyler could sit up. Cocked his head as Tyler gaped up at him. A devious smile spread across his lips. "If you're gonna kiss me, wanna make it less like a punch in the mouth?"
"Uh…sorry?" Tyler couldn't tell whether or not Luke was pissed about the kiss. He didn't look it. Actually, he looked a little scary. Tyler swallowed. "But I did it and, umm, didn't do anything for me. I don't like dudes."
That had both Scott and Luke laughing like freakin' morons. He tried to push Luke off him. Dropped his head back and sighed heavily when Luke wouldn't budge.
Luke raked his fingers into Tyler's curls, bending down, his eyes hooded. "If I didn't know one kiss would make you think you were in love with my man, I'd ask Seb to do this. Tomorrow, we'll both agree we were drunk and did some stupid shit. We're just friends, right?"
"Right." Tyler shivered, something about the way Luke held him, the way he spoke—if they were both wolves in a pack, Luke wouldn't be the biggest or the strongest, but Tyler would be beneath him. And he could either bare his throat in submission or have it ripped out.
"Relax, kid. I ain't gonna hurt you." Luke traced Tyler's bottom lip with his tongue. The liquor on his breath made Tyler's head spin. He opened his mouth to the kiss, shaking hard as Luke's tongue touched his, not sure whether he wanted more but pretty damn sure he didn't want to stop.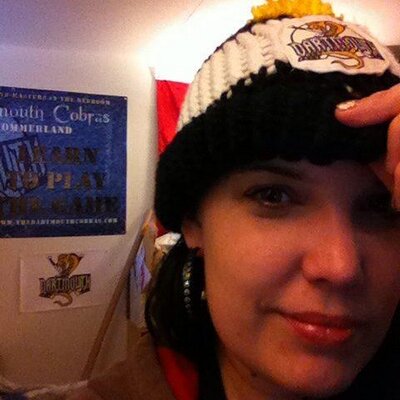 Tell you about me? Hmm, well there's not much to say. I love hockey and cars and my kids…not in that order of course! Lol! When I'm not writing—which isn't often—I'm usually watching a game or a car show while working on promo. Going out with my kids is my only down time. I get to clear my head and forget everything. As for when and why I first started writing, I guess I thought I'd get extra cookies if I was quiet for awhile—that's how young I was. I used to bring my grandmother barely legible pages filled with tales of evil unicorns. She told me then that I would be a famous author. I hope one day to prove her right.
Enter for a chance to win an ebook from Bianca's Backlist !!